Dance Portfolio Photography
Dance Portfolio Photography on the Mid North Coast with Wildflower Portraits
Dance Photography For Professional and Semi-Professional Dancers
Are you looking for a Dance Portfolio Photographer? In this blog post you'll see portfolio photos from our recent dance photo shoot with Shelayna. If you are a dancer on the Mid North Coast of NSW and are ready to take your dancing to the next level, get in contact with us at Wildflower Portraits. We'd love to talk with you about how a Dance Portfolio Photo Shoot will help launch your career as a professional dancer. For more information email info@wildflowerportraits.com.au or call 0429 211 567
"Shelayna's photo shoot was fantastic! She was a little nervous at first but Alicia made her feel so comfortable and Shelayna relaxed and had an absolute ball.
….. and the photos – WOW!! They are simply stunning. Thank you so very, very much"
– Teresa (Shelayna's Mum)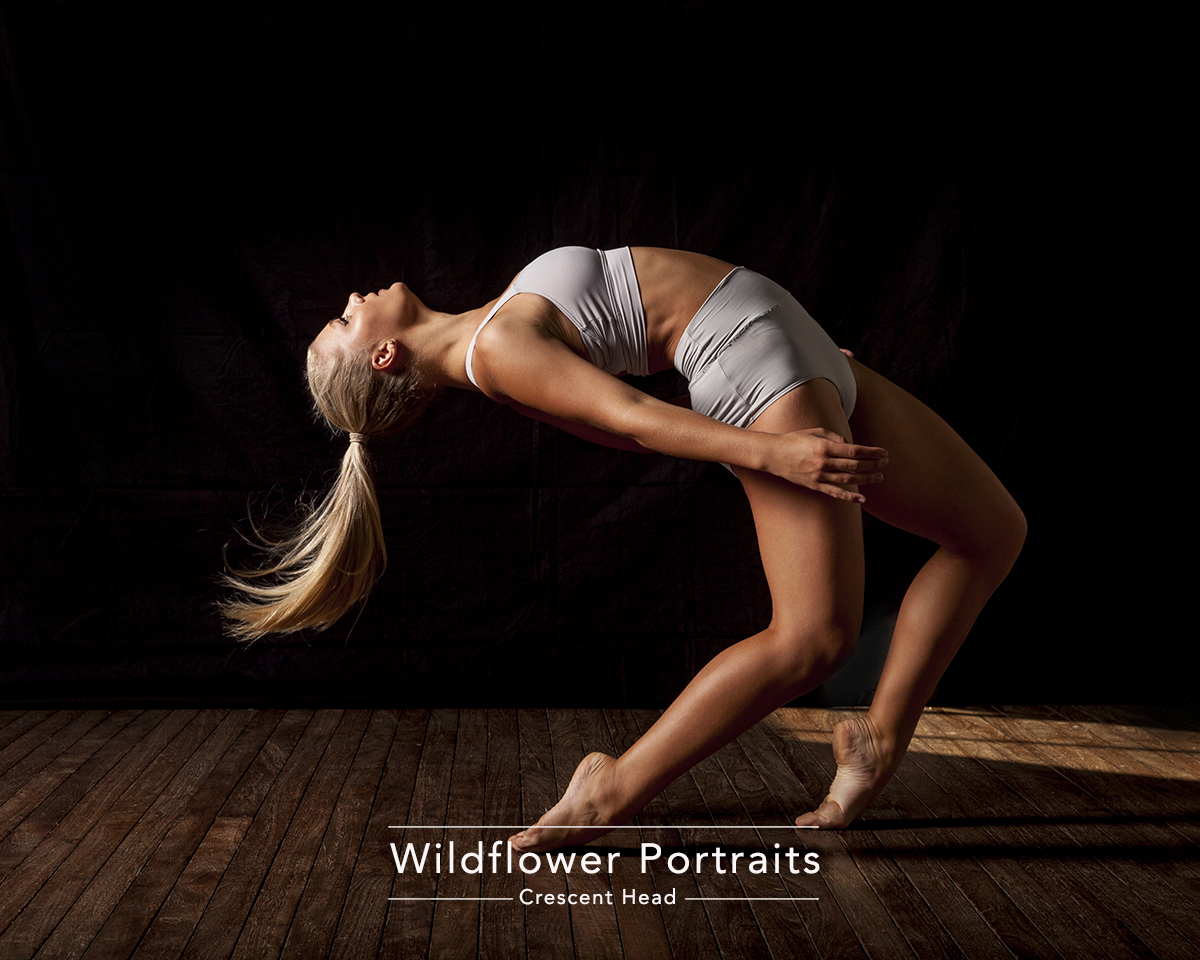 Preparing For A Photo Shoot
When I received an email enquiry about a Dance Portfolio Photo Shoot for Shelayna, a dancer from Bowraville on the Mid North Coast NSW, I was immediately excited. I learnt to dance for 8 years as a child and have adored and appreciated the artform ever since. Photographing dance is an exciting challenge…being ready to release the shutter at the right millisecond, freezing the motion with the assistance of studio lighting and capturing the amazing talents of a dedicated athletic artist.
As I do before every shoot, I began picture researching for the photo session based on the kind of images Shelayna wanted for her portfolio. She'd given me complete creative control which was very exciting. Based on my inspiration, I decided on the kind of backdrops I wanted then booked a location to suit and purchased a new fabric backdrop accordingly. I gathered some props (eg. painter's ladder)and I found examples of poses and dance moves that suited the styles of dancing we were going to represent in the folio, those that would best illustrate Shelayna's talents. I sent Shelayna a list of things to do and bring in preparation for her shoot, to allow her to get the best possible photos for her portfolio.
As this was the first time I'd shot a dancer, I researched the style of images that are required for a contemporary dance portfolio, in regards to styling, lighting, composition and mood. Then I spent a lot of time on Youtube researching how to perfect a technique I'd been wanting to try for months – a flour dance shoot (see the image below and my behind the scenes blog post). For this, I needed my assistant James and one other person – Teresa (Shelayna's mum). I put a lot of energy into every shoot, even before I meet my client face to face. I always do my very best to make each photo shoot my best one yet. I want my clients to be stoked with their photographs.
Dance Portfolio Photos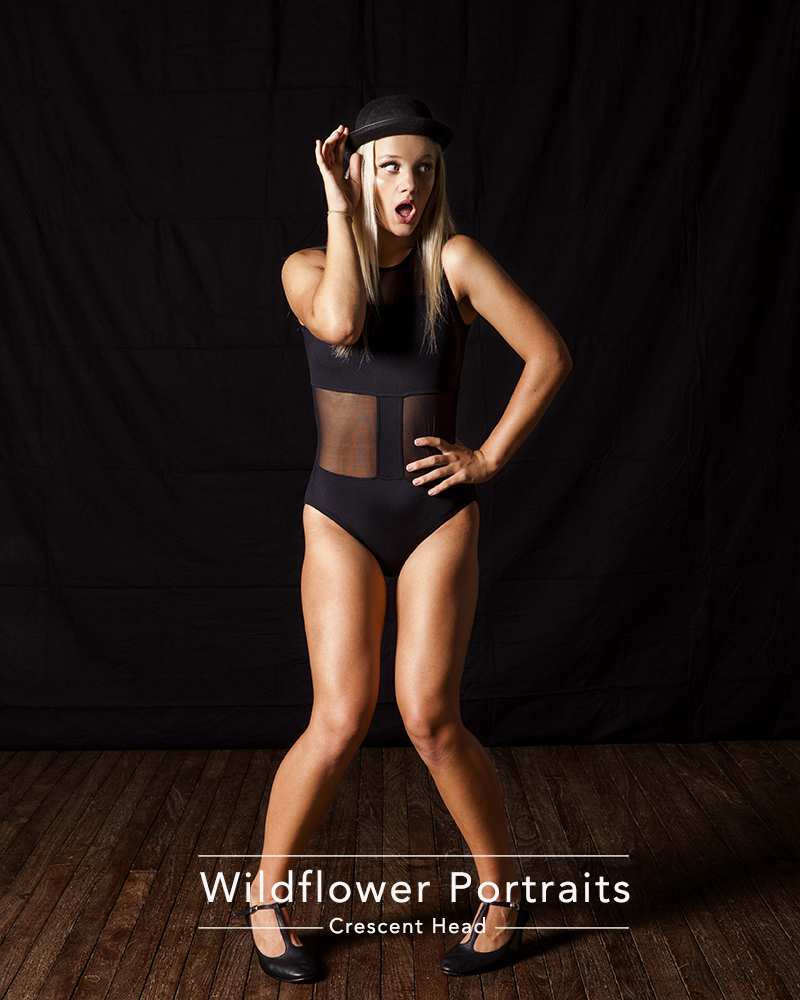 "The whole experience was great and I found that the more I relaxed, the easier and more enjoyable it became. It was a wonderful experience. Thank you"
– Shelayna

Dance Styles in Shelayna's Dance Portfolio Photos
Shelayna does many styles of dance including: ballet, pointe, contemporary, jazz, tap, hip hop, musical theatre and acro dance, with her favourite styles being contemporary, jazz and theatrical or traditional jazz. She attends the Valley Performing Arts Centre studio in Macksville and also teaches junior classes each afternoon after school.
How To Become A Professional Dancer
Shelayna regularly performs and competes in eisteddfods was recently spotted by an agent during a dance eisteddfod in Sydney. The agent approached Shelayna saying that she was interested in signing her to their agency. For this, Shelayna needed a portfolio, a collection of high quality professional photographs showing her talents, skills and ability to work in front of the camera.
At Wildflower Portraits we produce portfolios for dancers, actors and models. We guide you through the process and help bring your creative dreams to life. We want to see you succeed in your chosen field. Our portfolio packages contain 10 or 15 photos (or more by request). These photos are delivered to you as eco friendly prints of the highest professional quality, in a beautiful protective envelope. You will also receive a USB of the photos, in digital form for online posting and re-printing purposes.

Find more information about our portfolio photography HERE or in our blog posts. You can find package prices on our Styles & Pricing page.
We'd love to talk with you about how a Dance Portfolio Photo Shoot will help launch your career as a professional dancer. For more information email info@wildflowerportraits.com.au or call 0429 211 567
Ten Reasons To Choose Wildflower Portraits For Your Portfolio Shoot
We have over 10 years experience shooting portfolios
You'll get professional, high quality photos ready to show agents and apply for jobs
We guide you every step of the way
We offer payment plans – ask for more details
We are experienced shooting models from Australia's top agencies, and first time models/dancers/actors
You have a choice of location or studio style
You can feel completely comfortable with a female photographer
We are en eco friendly business – good for the earth, good for your conscience
We'll add you to our data base for future modelling/acting work
You don't need to go to Sydney to get a high end photo shoot
and
You'll have an amazing time. We promise!